Back To Menu
Pork Steak
2 hand-breaded pork chops topped w/ brown gravy
for a healthy option try them grilled
add mushrooms & onions  +$1.00
Add Mushrooms and Onions
+$1
Entrée Side Options:
Black Eyed Peas
Collard Greens
Cream Corn
Cucumber Salad
Fresh Green Beans
Fries
Seasoned Fries
+$0.50
Mac & Cheese
Mashed Potatoes
Onion Rings
+$0.50
Smoked Gouda Grits
Southern Coleslaw
Sweet Potato Fries
+$0.50
Tater Tots
Seasoned Tater Tots
+$0.50
Have you tried this item? Pop it!
Help other diners know what to expect by sharing your experience.
5 people have popped this item
Photo Gallery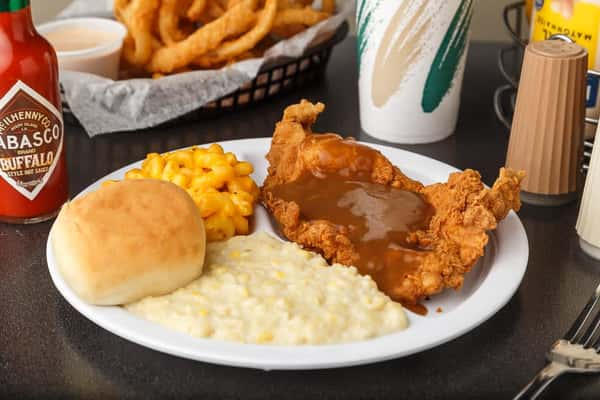 Back To Menu
Pork Steak
2 hand-breaded pork chops topped w/ brown gravy
for a healthy option try them grilled
add mushrooms & onions  +$1.00
Add Mushrooms and Onions
+$1
Entrée Side Options:
Black Eyed Peas
Collard Greens
Cream Corn
Cucumber Salad
Fresh Green Beans
Fries
Seasoned Fries
+$0.50
Mac & Cheese
Mashed Potatoes
Onion Rings
+$0.50
Smoked Gouda Grits
Southern Coleslaw
Sweet Potato Fries
+$0.50
Tater Tots
Seasoned Tater Tots
+$0.50
Back To Menu